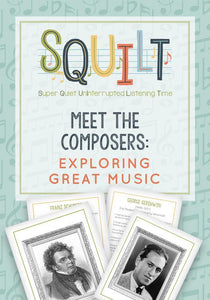 Great cards! Students of all ages really enjoy them.
Meet the Composers
My Grandson is 9 yrs old and is enjoying the Squilt series Meet the Composers as his first music appreciation class. He said " I like the music it makes me feel good and the composers are very interesting".
Meet the Composers: Exploring Great Music
Meet the Composers: Exploring Great Music
Easy resource!
We have only started using this resource, but it is easy to implement and the cards are visually appealing! I have never been very good at consistently implementing music study in our homeschool, but I feel like this is very doable! I like the bite size information about each composer and the links to the music. You can print and go, but I chose to print on card stock, laminate, and add them to a ring for durability and easy access. I am excited to continue using this in our morning time!