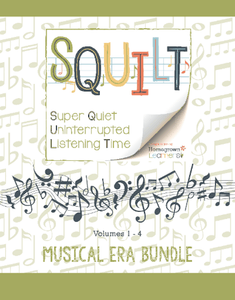 Baroque Era
The kids enjoy listening to the various versions of the song, especially comparing the originals to those with a modern twist.
Wonderful!
We have only just started the Musical Era Bundle, but we are enjoying it as a family very much. Thank you for putting together such a great product!
Fun and Easy for Kids!
This is my first year homeschooling my three kids (ages 6-9). I had no idea what to do for music lessons! This has been fun and easy to use, the kids love it and it introduces so many musical concepts and music we otherwise probably would not have talked about or discovered. I highly recommend it!
Ease of Use
We love the ease of using SQUILT products. We can go at our own pace