Ways to Learn Music Appreciation

Let Us Teach For You
Let us teach your children music appreciation. With live lessons, a monthly listening calendar, and other benefits, we take care of everything for you.  
Become a Member

Self-Guided PDF Volumes
Learn by era, composer, season, flashcards, and listening maps. Whatever your learning style, we've got you covered.
Shop Now
S

uper

Q

uiet


U

n

I

nterrupted
Listening

T

ime


(SQUILT)

A method that teaches children to listen attentively and focus on the essential elements of music: Rhythm,Tempo, Dynamics, Instrumentation, and Mood.

As children develop a habit of listening their appreciation for beautiful music grows deeper.
The Nutcracker Ballet New Video Course

Be the first to receive our brand new Nutcracker video course - perfect for all ages!

LEARN MORE>>>>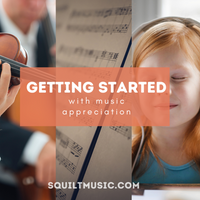 Are you a music appreciation novice? Start Here

If you use the three simple suggestions/resources listed here you will be on your way to getting started in music appreciation.

Families new to music appreciation will want to read this!

Learn More>>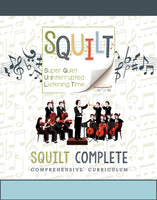 Every product in the store! SQUILT Complete

This is a COMPLETE do-it-yourself music appreciation curriculum for preschool-middle school.  SQUILT Complete gives children the knowledge of instruments of the orchestra, major composers, eras of music, and special music for the Christmas season. Games and listening maps add to the fun and increase learning. 

Learn More >>
A Spotify Playlist Of Our Favorites Ultimate Music Playlist

The most simple way to foster music appreciation is to immerse yourself in beautiful music! Use this playlist to do just that.

Read More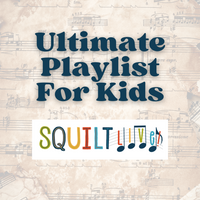 Testimonials
Great for Co-Ops
"I am so pleased with what you put together. I am teaching 5 children in a co-op. Their ages and abilities vary. It's so rewarding to see them learning this material, and being excited about it!"
~ Lisa, Homeschooling Mom
"SQUILT LIVE!"
"Mary's vivacious spirit and love of the subject kept my child attentive to the lesson. The music maps made following the music and learning easy and interesting. My daughter also enjoyed interacting with Mary and other learners by typing responses in the chat box."
~ Cheri, Homeschooling Mom
"Helping Homeschool Families"
"My boys (second and third graders) and I worked through Volume 1 of SQUILT this year, and we loved it! Thank you so very much for your information and for your program. You are helping homeschooling families in such an excellent and much-needed way!"
~ Allison, Homeschooling Mom
See More
Here is what others are saying...