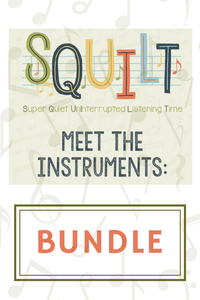 Great set!
This is a great set! After looking at a few different flash card sets for instruments from other places, I bought this set, and I'm glad I did. They are beautiful and the backs of the cards have fun facts and information about the instruments which is really helpful when teaching. I also appreciate the links for videos that are included. Only downside is the time involved in printing, cutting, and laminating the cards myself. But we will keep this set for a long time!
Great products!
I love the versatility of the products! I can use them to play multiple different games with the kids over the coming weeks!!!
Great Music Program for Homeschooling
I've been using the whole Squilt program with my kids ages 6-9 this year homeschooling, and I've found the Meet the Instrument cards enormously helpful in teaching them in a fun way! We've played games, matching and categorizing with them, and also just having them around to refer to has been helpful. Definitely recommend them!
We love it!
My children are 9, 6, and 4. This has been a wonderful introduction to the instruments of the orchestra. I'm so thankful to have this addition to our weekly lesson plan.
Great Introduction to Instruments!
My six year old loves the flashcards that come with this set, and we've really enjoyed the list of videos showcasing the different instruments as well. It's a great introduction to orchestras. Also, the customer service from Squilt is amazing. Any questions I have are always answered so kindly and promptly!