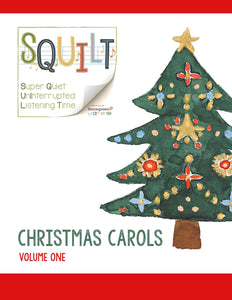 Christmas Music appreciation
My children, ages 7-13 have enjoyed the Baroque SQUILT so I decided to get the Christmas carols for December. I will definitely get the next volume next Christmas
Very good
We are enjoying the Christmas Carols study. My son likes the Draw What You Hear sheets, and we are learning a lot about music through listening for the different elements on the notebooking pages. I would love if we had access to a private playlist for the music in addition to the links in the document. Overall, I'm very happy with my purchase and I'm looking forward to more in the future.
Perfect December Music Appreciation Course
I personally love all Christmas music, especially Christmas carols, but have had a hard time passing that passion on to my children. We are dividing this course into one carol for each week of Advent. So far I think that spending a week listening to a few different versions of one carol is helping my children become more familiar and interested in each carol on its own. If we do this over a few year, I think it will really help.
Christmas Carol Bundle
Great links to the Christmas carols!
I didn't really read the description thoroughly so we were a little disappointed there wasn't a live (or recorded) lesson included. My kids and I agree that the lessons are so much better when Mary is leading it.