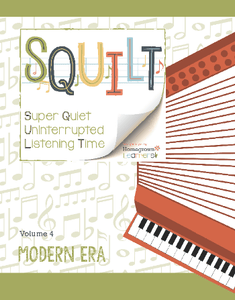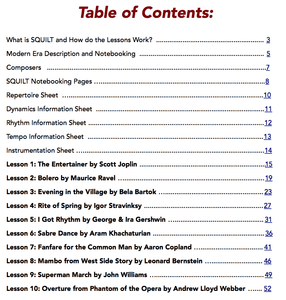 Modern Era
Excellent! Just what I needed to teach the modern era of classical music.
Recommended!
I'm loving SQUILT. It has made implementing music appreciation into our family and homeschool a breeze! I only wish all the links were continually update. I found that some do not work. Not a big deal, as I can easily search. We are starting with Modern era and working backwards and the everyone has been really engaged! We will be buying other era's when we finish!
Great Music Appreciation Unit
We've loved this unit as a supplement to our History class. Some days we just do the basic SQUILT. Sometimes we use the extra material and just chase down the great links posted. It's great to be able to study as much or as little as we want.
Vol 4 Modern Era
Thank you! This has saved me some work. However, I would have liked to have more info about the composer in the actual document, without having to go to the internet. I like my kids to be able to read it, but not from a screen. At least one of the links I needed to be subscribed to something and I didn't like that. But I am thankful that some of the work has been done for me. :)